FUKOKU's products that support people's lives
FUKOKU boasts the No. 1 production volume of wiper blade rubbers worldwide. While rolling out products with large shares in the field of auto parts, we are applying the bonding, surface modification, and molding technologies we have developed with rubber raw materials to expand our products in a variety of industrial fields. Here we introduce the FUKOKU products and technologies that play an important role in people's lives.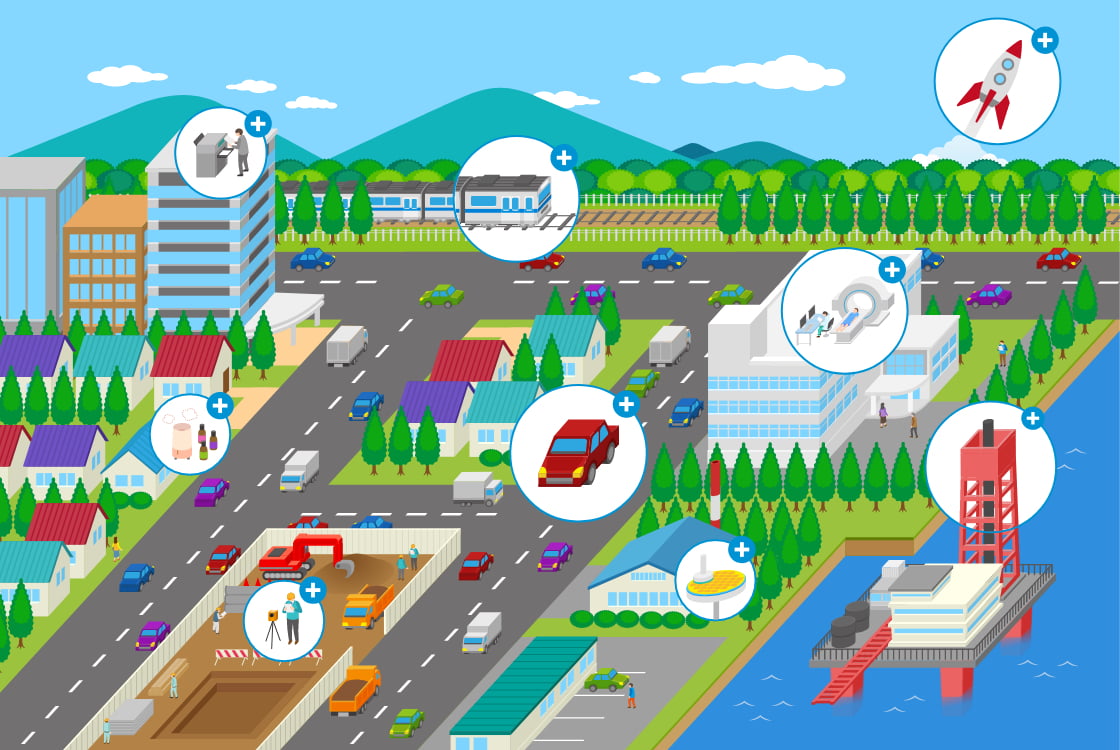 Click to expand.
Transportation equipment
Providing safe, secure, and comfortable transport to support people's lives.

Automobiles
We develop and manufacture the rubbers attached to automobile wiper blades as well as a variety of components that support vehicle safety and comfort.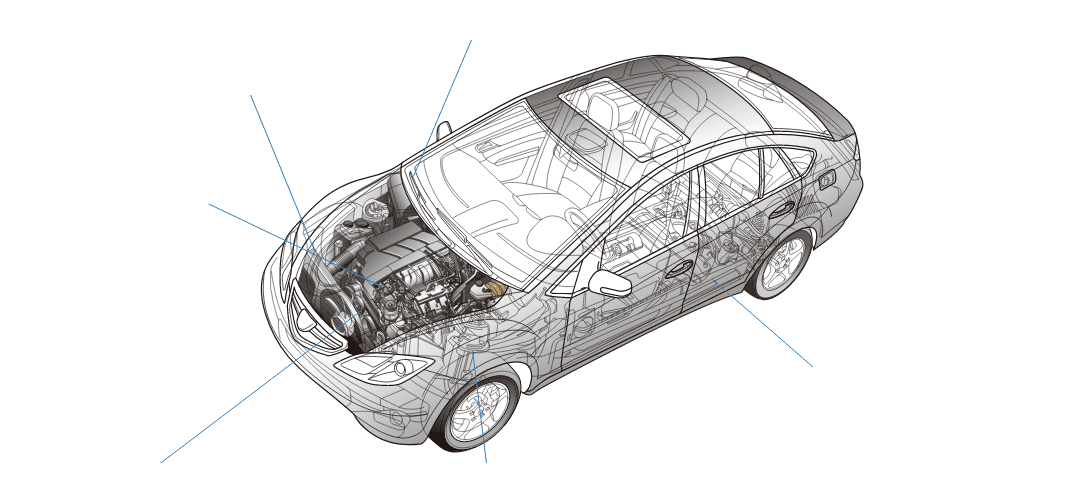 Piston seals (brake components) [17% global share]
Components used in disk brakes that both keep the driver safe and affect brake performance. We are fastidious about our internally developed rubber materials and even invisible details such as surface characteristics. This has led to our 17% global share in these products and our annual production volume of 75 million units.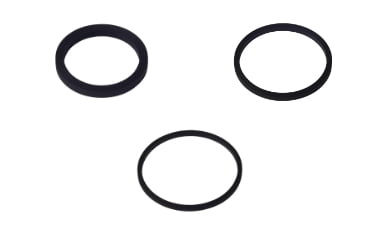 CVJ (constant velocity joint) boots [12% global share]
CVJ boots are dust covers for constant velocity joints, which transmit power of the engines to the wheels.
We were the first manufacturer in Japan to mass-produce Plastic CVJ boots, and we use the design development technology we have been accumulating since then to develop boots that are durable, while lightweight and compact.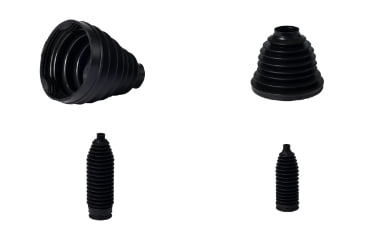 Diaphragms
The diaphragms that we manufacture are mainly used in brake boosters.
Thanks to rubber compounding technology, they use rubber materials with a superior property balance that are suitable for a variety of environments and have high durability.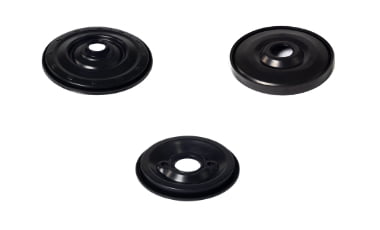 Types of boots (e.g. pin boots)
Boots are installed on equipment that is sensitive to the entry of water or foreign objects, where they serve as a cover to protect the internal parts. Our boots have high durability to repeated deformation and are available in a variety of diverse types, including integrated jig-type boots with high release and high reliability.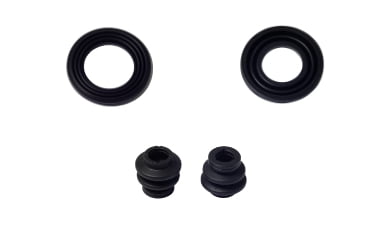 Couplings (e.g. power windows, air conditioner)
The photo shows a window regulator coupling. These are the components that absorb the impact of power windows arriving at the top or bottom of their range. We also produce and sell a variety of other coupling products.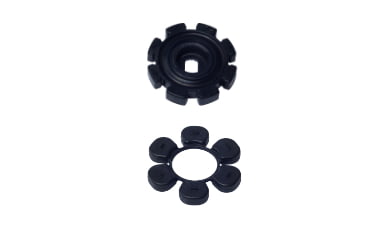 Crankshaft dampers (engine component) [15% global share]
Components installed at the tip of the engine crankshaft to reduce vibration and noise. They are used not only in automobiles but in ships and construction machinery as well. We use high-performance rubber and other cutting-edge technologies to provide products with high added value.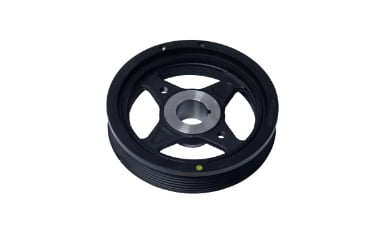 Isolation pulleys
A high-functional component composed of a crankshaft damper with an added function to decrease the rotational fluctuation transferred to the belt system during low- speed operation.
Wiper blade rubbers [50% global share]
Wiper blade rubbers are FUKOKU's core product and we boast the No. 1 production volume worldwide. That makes up a 50% global share for automobile applications. We use our original rubber compound technologies to develop products that can be used more cleanly, more quietly, and for longer.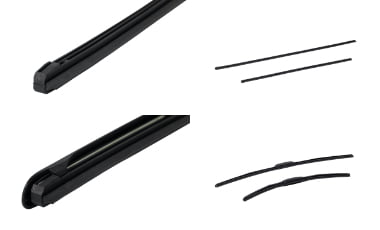 Railways and Shinkansen (bullet trains)
Rubber shock absorbers
We make a variety of components that are used in railway cars, including cushioning rubbers for linking railcars while mitigating forward and backward movement. We use our original rubber compounding technologies to design for the necessary anti-vibration characteristics of rubber and contribute to the safety and comfort of railways.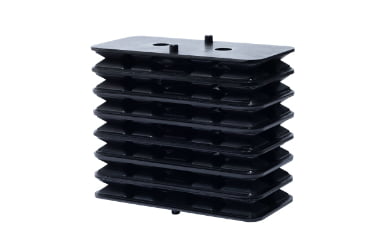 Ballast mats, anti-vibration sheets
These products are laid beneath railway tracks (both the tracks and the gravel roads) to reduce vibration and noise for a more comfortable ride.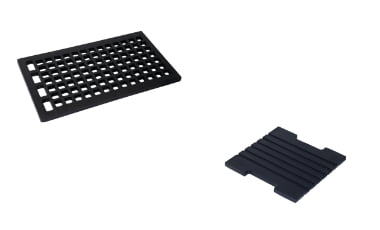 Rockets
Satellite components
We have a track record of delivering monuts for gyroscopes for satellites and space station equipment. FUKOKU's rubber even plays a role in outer space.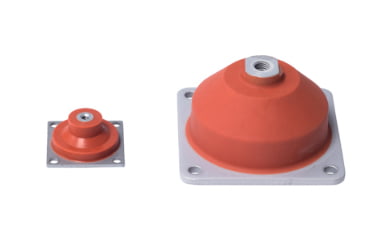 Construction and agricultural machineries
Suppressing the noise and vibration of construction and agricultural machinery to reduce the fatigue of the people working on site.

Cabins for construction and agriculture machinery
Viscous mounts
Our components that utilize the soundproofing and anti-vibration performance of rubber are adopted. Viscous mounts are products that are installed underneath the cabin of construction machinery (where workers ride) to reduce the vibration and noise transmitted to the operator.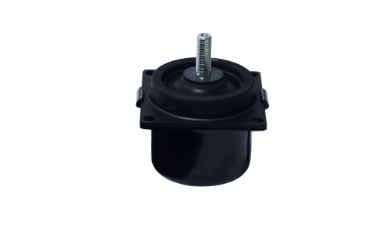 Surveying instruments
Ultrasonic motors
Ultrasonic motors are employed in their moving parts of the total stations (surveying instruments) used for surveying of construction sites and topography, which require accurate and detailed operation. Their direct drive allows them contribute to high accuracy, downsizing, and weight reduction.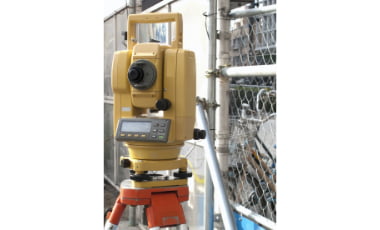 OA devices
FUKOKU's technologies support the functions that achieve precise printing and feeding performance in OA devices.

Printers
Toner fixing
Our products are used in the pressurizing components and the rollers of laser printers to fix toner powder (coloring powder) onto paper. Our originally developed sponge rubber and low-friction coating technologies play a role in high-speed printing with lower power consumption.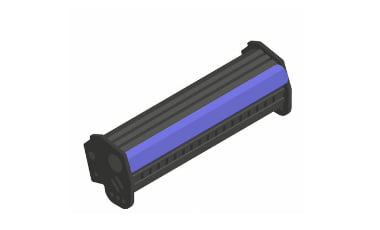 Precision seal components
Our precision seal components are widely used in transferring ink to print heads. We have applied our unique compounding technologies in developing acclaimed materials to help maintain ink quality.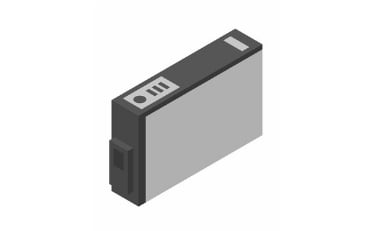 Silicon fine cell rollers
Our products are used in the rubber rollers that feed paper. They are distinct for their high durability and their high-precision paper feeding capability.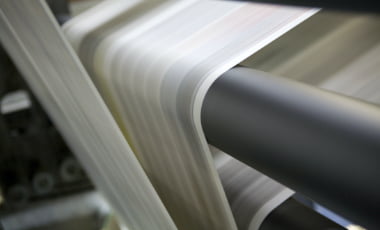 Industrial machinery
FUKOKU's products contribute to the evolution of industrial machinery in terms of space-saving and high durability.

Silicon wafer production equipment
Urethane rollers
Our urethane rollers are used in the wire saw equipment that slices semiconductor ingots into wafers. We boast the top global share in the urethane roller field.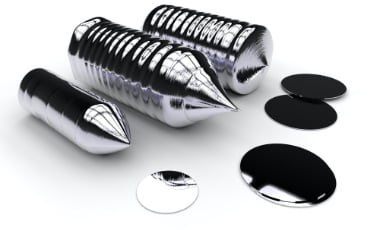 Precision processing equipment
End seals, side seals, solenoid air valves
Beyond automobile applications, we also manufacture solenoid air valves, dustproof seals for linear systems for industrial facilities, and more. Using our originally developed technology, we are developing products with functions such as low sliding and low viscosity.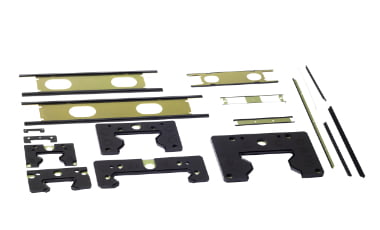 Oil-well drilling facilities
Pressure-resistant, heat-resistant, and chemical-resistant seals
We produce high-performance O-rings, made of a composite material of carbon nanotubes (CNT) and rubber, for use in oil exploration equipment. They are highly resistant to pressure, heat, and chemicals, and it is expected that they can expand possible oil reserves in the future.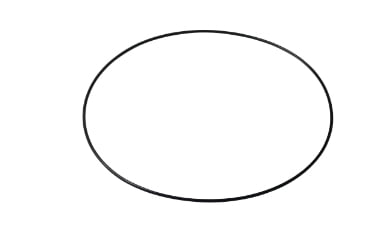 Optical instruments, home electronics
FUKOKU's products are selected for their high reliability and safety, and they bring comfort and operability to familiar products.

Cameras
Ultrasonic motors (ring-type/micro-motors)
Ultrasonic motors are installed in replacement lenses for digital cameras. They are ring-shaped and silent, and they feature highly responsive control, making them perfect for the autofocus function.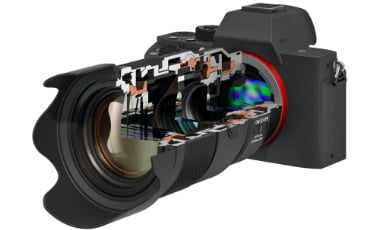 Air sterilization atomizers, aroma diffusers, humidifiers
Ultrasonic atomizers oscillator
FUKOKU's ultrasonic atomizers are installed in the humidifiers and air sterilization atomizers you encounter in your daily life. For the oscillators that atomize liquids, we offer integrated production of everything from the piezoelectric ceramics to the rubber gaskets, including assembly. With our foundational rubber technologies, we also produce rubber gaskets suitable for the special coatings needed for sterilized water and hypochlorous acid water.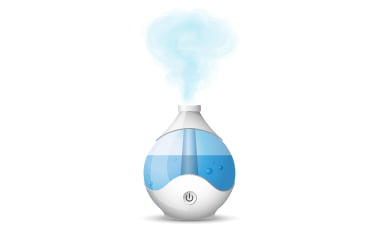 Medicine and life science
We support healthy living in everything from cosmetics to the increasingly high-precision field of cutting-edge medicine.

MRI environment peripheral equipment
Regenerative medicine relating products
Testing kits
Here we introduce the products that embody FUKOKU's technical capabilities and spirit of challenging.