Basic Policy on Compliance
The FUKOKU Group regards compliance with laws and regulations, etc. as one of the most important aspects of management and pursues activities to strengthen and raise awareness about such compliance.
By quickly detecting and assessing matters that have the potential to impede the continuation of business and compliance risks that could threaten the safety and security of stakeholders, and deliberating and implementing the necessary responses, the FUKOKU Group strives to prevent them from occurring and, in the event that they do occur, strives to minimize the damage and prevent their recurrence.
Major Compliance Initiatives
Viewing compliance as an issue that is directly related to the sustainable growth of the Group and to the enhancement of corporate value, we are engaged in a variety of initiatives.
Compliance Committee (Chaired by President & CEO)
Compliance education (following the FUKOKU Group Employee Conduct Guidelines and Compliance Guidebook)
Establishment of whistleblowing contact point (reporting to and consultation with outsourced organization)
Appropriate Employee Conduct and Working Environment
For the FUKOKU Group to continue its business activities with the trust and sympathy of the community, it is important that every individual employee keep doing the right thing in their daily lives and "contribute to people's happiness."
To this end, we have established the FUKOKU Group Employee Conduct Guidelines and hope to increase our corporate reliability by each individual employee adhering to those guidelines.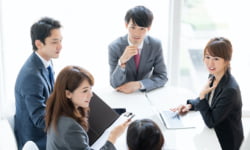 FUKOKU Group Employee Action Guideline
Supply Safe and High-quality products
1) We comply with the most relevant laws and safety regulations when we develop and manufacture our products.
2) We supply safety and high-quality products in accordance with customer needs.
3) We rapidly take corrective actions and recurrence prevention whenever a problem occurs.
Fair and transparent sales & corporate activities
1) We will establish a relationship of mutual trust with our customers and suppliers.
2) We will comply with Antitrust, Subcontracting, and other related laws/regulations and lead fair trade.
3) We will not give and/or receive any business entertainment, gifts, corruption/bribery actions, or anything beyond the accepted social common sense.
Prompt Disclosure and Communication of corporate information
1) We will promptly disclose the corporate information to shareholders and investors aiming better transparency.
2) We will promptly disclose the necessary corporate information to the rest stakeholders.
3) We collect and manage the latest and most accurate information.
Creating a Cheerful and Safe Work Environment.
1) We respect the individuality of every associate and promote everybody's creativity.
2) We strongly prohibit discrimination and harassment.
3) We will comply with Labor-related laws/regulations; our objective is to keep proper employee management as well as health and safety.
4) We will develop our personnel system with fair evaluation and treatment, creating an open & active corporate culture based on this system.
5) We will extend these guidelines to our overseas operations sites and business partners, which may have different laws and/or social conditions.
Actions for Environmental protection
1) We comply with Environmental protection laws/regulations and prevent environmental pollution.
2) We will actively commit to low environmental impact business activities.
Protection of intellectual property rights and treatment of confidential information
1) We will execute an adequate preliminary survey to avoid infringement of the third party's intellectual property rights.
2) We acknowledge the company manage confidential information from sales, engineering (including know-how, process), and other areas, and our obligation to keep them in strict controlled condition.
Contributions to society
1) Our company's objective is to coexist with our society and grow together.
2) We will actively engage in positive activities to contribute to our community.
3) We will properly acqknowledge our tax payment obligation as a responsible taxpayer company.
4) We will not have any relation/affiliation with any antisocial organizations; on the contrary, we adopt an attitude offensive against them.
International Business Activities Objectives
1) We will act in accordance with the respective laws/regulations when importing and exporting business.
2) We will comply with local laws/regulations and respect local culture on overseas business expansion.
Building Compliance Office
1) We will build a Compliance Office to ensure that FUKOKU associates do business activities following this Action Guideline.
2) We will promptly report the violation to the corresponding consultation contact as soon as we identify a violation of this Action Guideline. The whistle blower who reports the violation will be protected, and any retaliation is prohibited.