We apply our creative power developed through solving auto parts manufacturing issues to create further value.
Since our founding more than 60 years ago, we at FUKOKU have been able to solve many problems in a wide range of fields, starting with auto parts manufacturing. Our experience has given us a flexible sense of creativity, which we will use to create new value in a wide range of fields, based on our motto, "Starting with rubber, brightening the future."
Urethane products
Our products have the top global share in the market due to our original compounding ingredients and superior cast molding and processing technologies.
There are many types of polyurethane used widely in many fields, such as foams, fibers, coatings, adhesives, and elastomers (with thermoplastic and thermosetting properties). We specialize in a type of high-strength thermoset elastomer commonly called cast urethane.
Cast urethane offers better mechanical strength, anti-abrasion performance, and anti-shock performance than synthetic rubber, resin, or any other elastic material, and is therefore used in comparatively severe (high-load, high-speed, or high-impact) environments.
FUKOKU focuses on abrasion resistance performance—the greatest benefit offered by cast urethane—and continues to go beyond industry conventions to develop materials with even greater abrasion resistance performance.
We leveraged the material technologies, molding/processing technologies, and quality management system we have developed for automobile-related parts in winning a top global share in wire saw equipment (used to cut ingots)—particularly in urethane rollers for semiconductor wafers.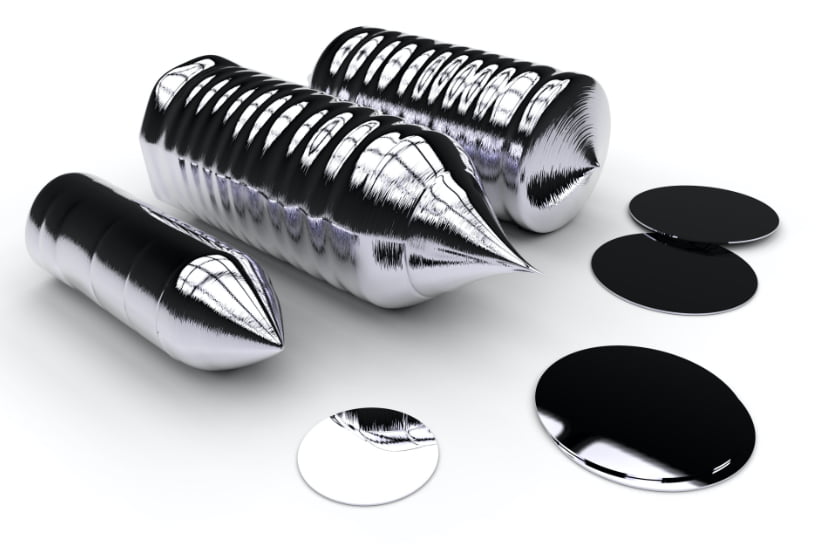 Example urethane products
Main rollers for ingot wire saws
We provide integrated production in-house that covers all processes, from material design to molding and shipping. Our maintenance processes (such as core inner diameter shaving) result in a high runout accuracy, allowing us to maintain a high level of quality while supplying products with optimal lead times.
Manufacturing processes
Material selection > Core maintenance > Pre-treatment > Urethane molding > Post-processing > Measurement/inspection > Shipping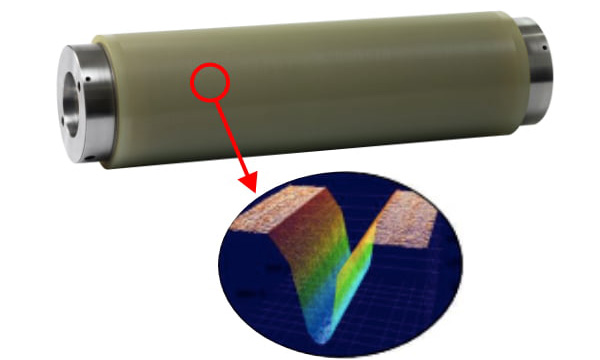 Urethane pulleys
We manufacture wire saw rollers, guide rollers, and all types of urethane pulleys.
Our original mixture design allows us to manufacture special urethane with increased abrasion and liquid resistance properties, and our products have been evaluated on actual machines, demonstrating a longevity three to five times normal.
We offer a full lineup of products including water-resistant and oil-resistant grade products to meet your application.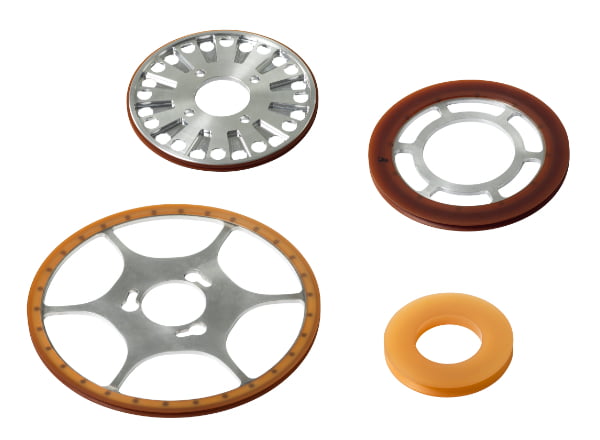 Octron mats
These urethane mats deliver stable electrostatic diffusion properties.
They can eliminate problems caused by electrostatic charging and electrostatic discharging. Made from urethane, they provide superior durability and include no carbon-based filler, and can therefore be used even in cleanroom environments. They are ideal for use on workspace floors or workbenches, or as antistatic pads.
They are also electrostatic throughout their thickness direction , so surface abrasion or wiping and cleaning will not cause performance degradation.
Volume resistance: 10⁷ to 10⁸Ω (JIS K6911)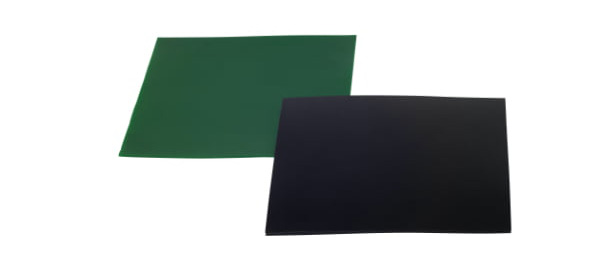 Why people choose FUKOKU's urethane products
We have the top global share in the market in
supplying wire saw urethane rollers for semiconductor silicon wafer production. We have the top global share in the market in supplying wire saw urethane rollers for semiconductor silicon wafer production.
01

Our integrated production system provides customers with total solutions
(Main rollers for ingot wire saws)
Integrated production for high quality and short lead times
All processes are handled in-house through integrated production, allowing us to ensure a high level of quality while minimizing lead times.

Thorough maintenance to improve precision and durability
FUKOKU performs maintenance on your roller cores.
Our maintenance can increase runout accuracy during rotation, help maintain precision in processed products, and improve equipment durability. The services have won high acclaim from our customers.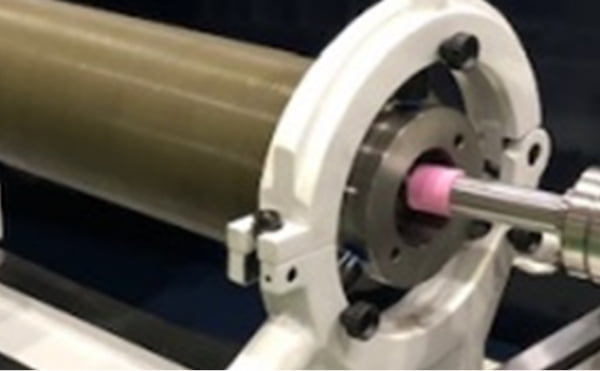 Original devices provide highly stable operation during production
We use original elastomer casting machinery when mixing and stirring materials, resulting in accurate and stable physical properties.
02

Foundational rubber technology and quality management developed in the automotive industry


Material technologies
FUKOKU is a specialist manufacturer of synthetic rubber for various industries.
We have more than 1,000 different compounds and leverage our experience and knowledge in urethane material mixture technologies.
Product evaluation technology
We use various kinds of analytical equipment to analyze organic compounds (including testing equipment such as universal material testers, friction/abrasion testers, and single wire saw evaluators) to provide reliable quality management.
Analysis/design technology
We use tests such as stress simulations based on our original FEM analysis technology to design optimal products and save wasted resources.
Example stress analysis simulation: Wire saw guide roller core
Example of using FEM analysis to propose shape to reduce stress concentration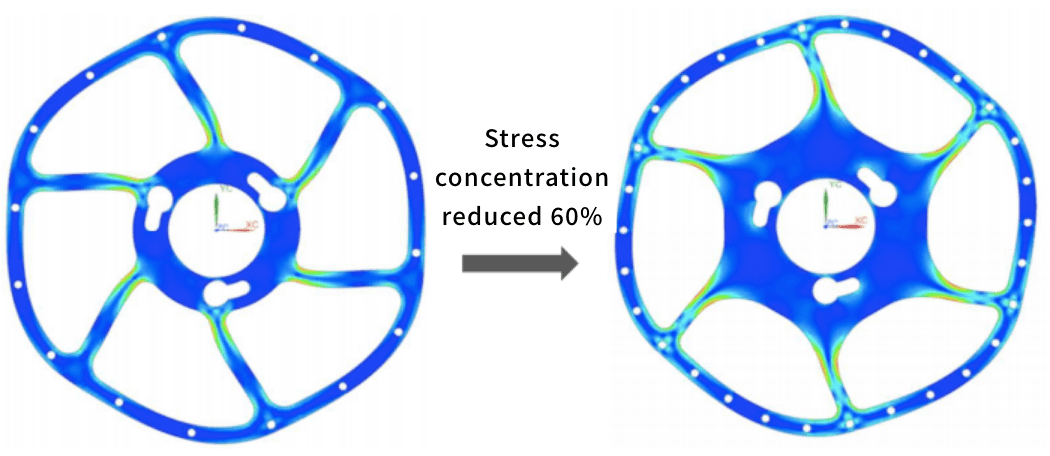 03

FUKOKU uses a wide variety of urethane materials, allowing customers to choose them that best suits their usage environment and conditions
FUKOKU original long life grade
This special urethane offers increased abrasion and liquid resistance properties based on our original mixture design. Evaluations on actual machines have demonstrated a longevity three to five times normal.
Our original and innovative mixing technology allows us to form large products that could not be formed from standard abrasion-resistant urethane material.
We also offer water-resistant and oil-resistant grade products. This allows customers to select the product that is best suited for their application.
Our urethane products retain their physical properties, shape, and processing accuracy from starting of the usage to the end of life, resulting in better quality, stable production, and a longer product life—which means reduced costs for customers.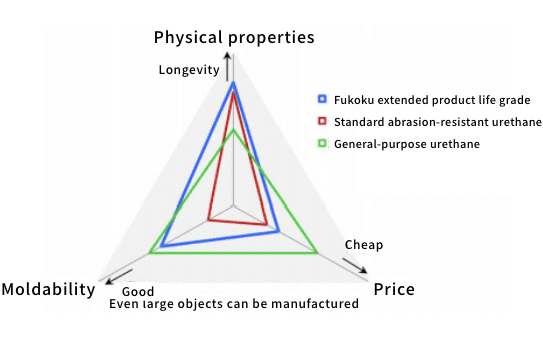 Physical properties comparison with long-life grade
Anti-abrasion performance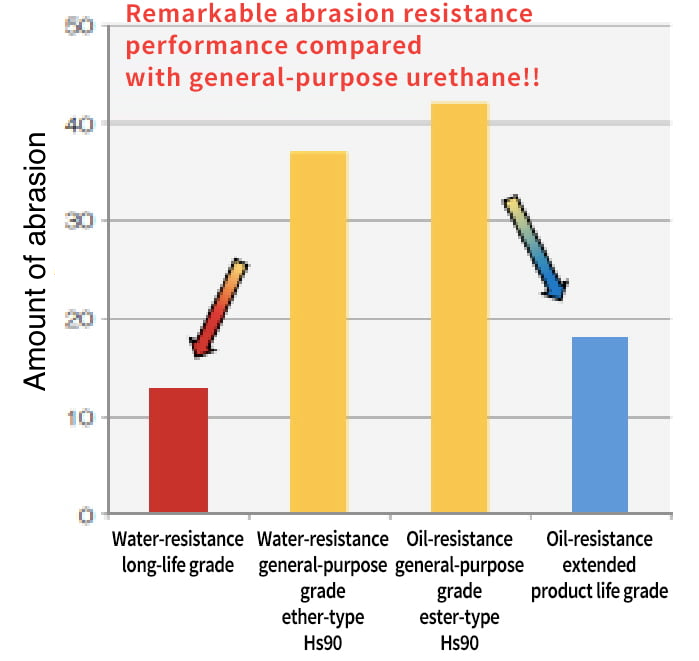 Water-resistance coolant performance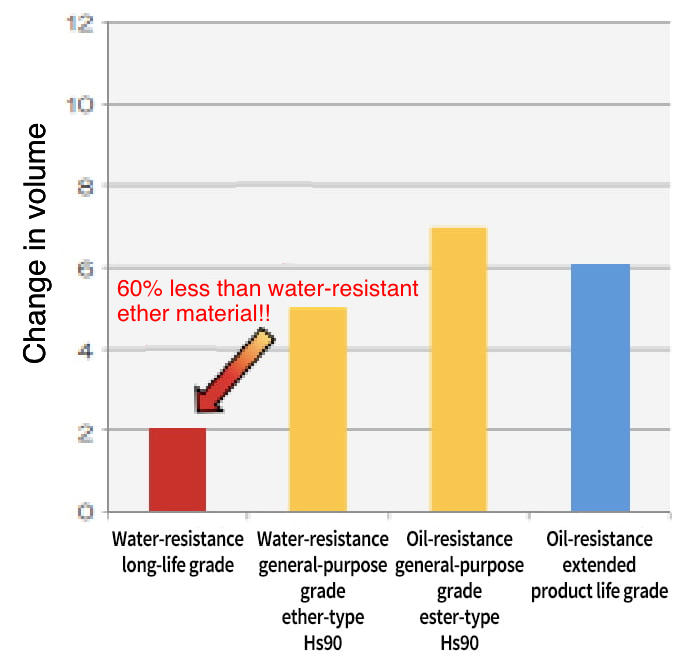 Oil-resistance coolant performance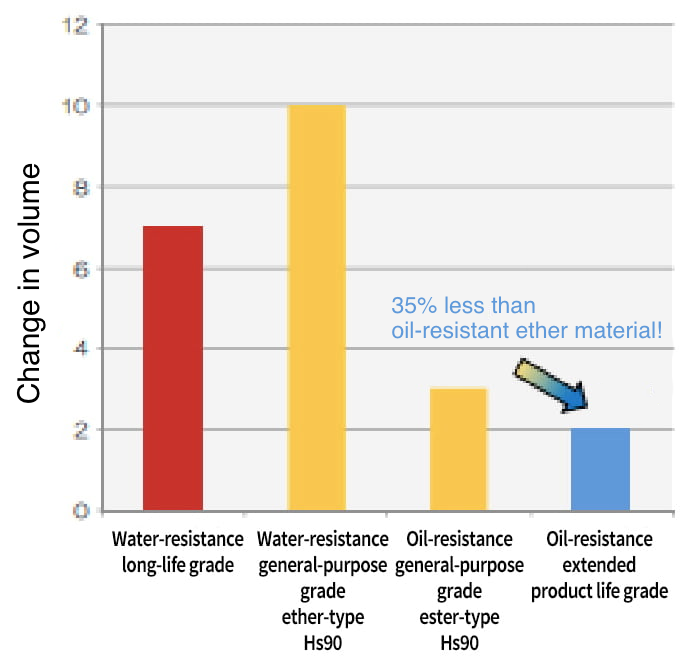 Representative mixture:
Physical properties
Item
Unit
General-purpose grade
Extended product life grade
Ether-type


Hs90

Ether-type


Hs95

Ester-type


Hs90

Ester-type


Hs95

Water-resistance


Hs92

Oil-resistance


Hs92

Hardness
Durometer
TYPE A
90
95
90
95
92
92
Tensile strength
MPa
40
50
52
53
42
40
Stretching
%
410
350
400
440
600
700
100% tensile stress
MPa
9
13
8
12
9
8
Tensile strength
kN/m
93
108
87
107
110
122
Taber abrasion
Abrading wheel: H-22, weight: 1 kg
No. of rotations: 1,000
mg
37
40
42
57
13
18
Contact us about urethane products
Contact us
Please submit any inquiries here.
Microchannel chips
Functions such as mixing, reaction, separation, and analysis are integrated into a chip small enough to fit into the palm of your hand, making it possible to conduct highly efficient experiments and inspections of all kinds
Microchannel chips are containers that contain a microscopic space measured in micrometers (1/1000 of 1 mm). Functions and operations such as multi-sample mixing/response and mixed sample detachment/analysis, that once required a certain amount of space and time, large equipment, and power, can now be done with a single chip that fits in the palm of your hand. Miniaturization has made functions and operations more efficient. In addition to saving space, these products can help to save time, reduce costs, and save energy, and their use holds great promise in the bio and medical fields.
We have incorporated microscopic, clean, and trace amount elements into the rubber molding, bonding, and evaluation technologies we have developed over many years in manufacturing rubber components, and have applied our knowledge toward rubber micro-molding technology, ultra-transparent molding technology, and adhesive-free direct bonding, in order to provide microchannel chips of even higher quality.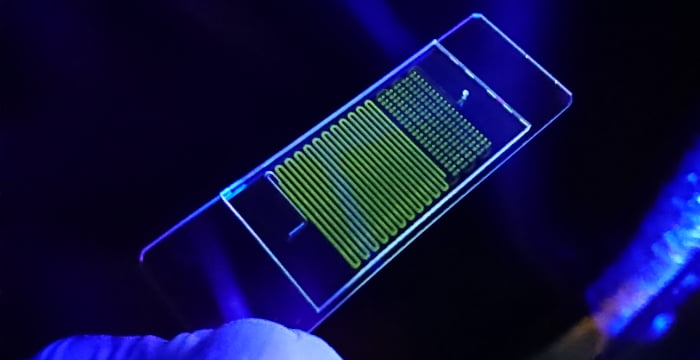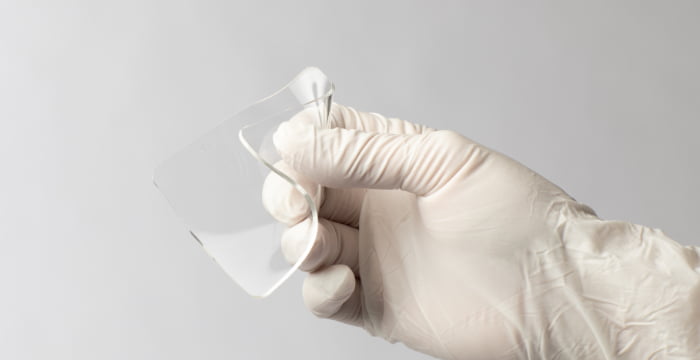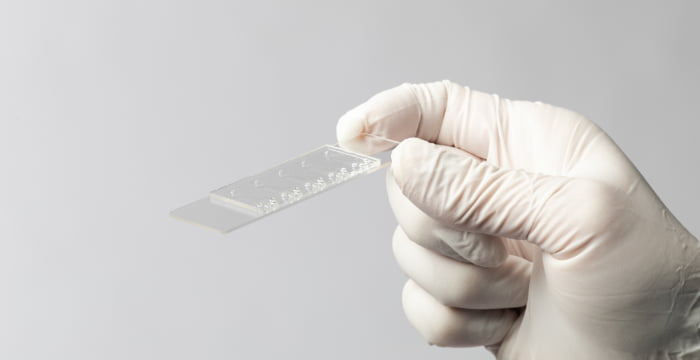 RaST-TAS® Series bacterial infection β-lactamase/screening kits

Jointly developed by Osaka University and FUKOKU, RaST-TAS (Rapid Susceptibility Testing - Total Analysis System) is the world's first bacteria testing system that takes advantage of the features of microchannel chips.
RaST-TAS features
Testing that once took approximately 18 hours can now be completed within three hours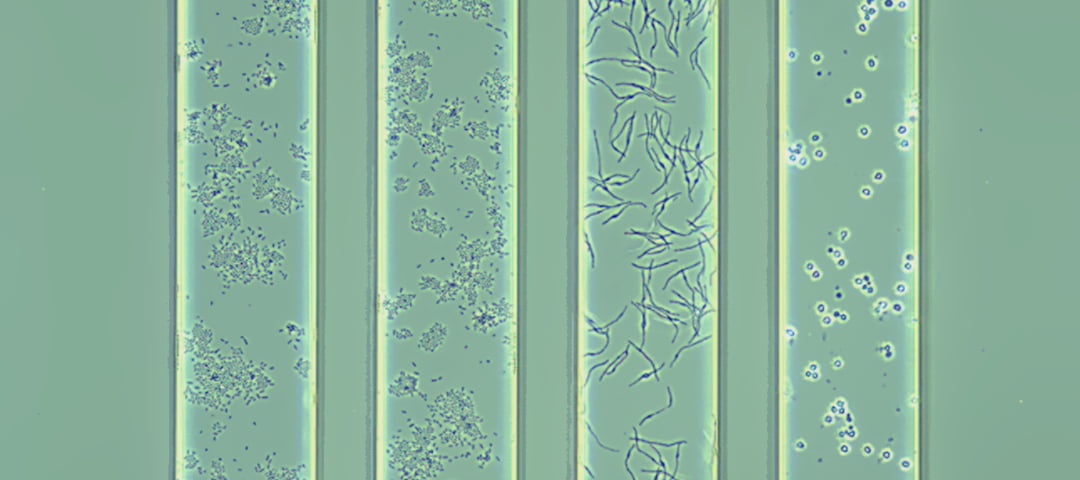 Conventional testing methods require target bacteria to proliferate to a level that can be detected by equipment, which can require a culture time of at least 18 hours. The basic concept underlying RaST-TAS is that bacterial morphology will change if an anti-microbial agent is effective against target bacteria when the bacteria responds with the anti-microbial agent. This change in morphology can be observed within several hours, and this principle can therefore be used to conduct testing in just three hours by directly observing changes using a microchannel chip and microscope.
No longer any need for large and expensive facilities or complicated operations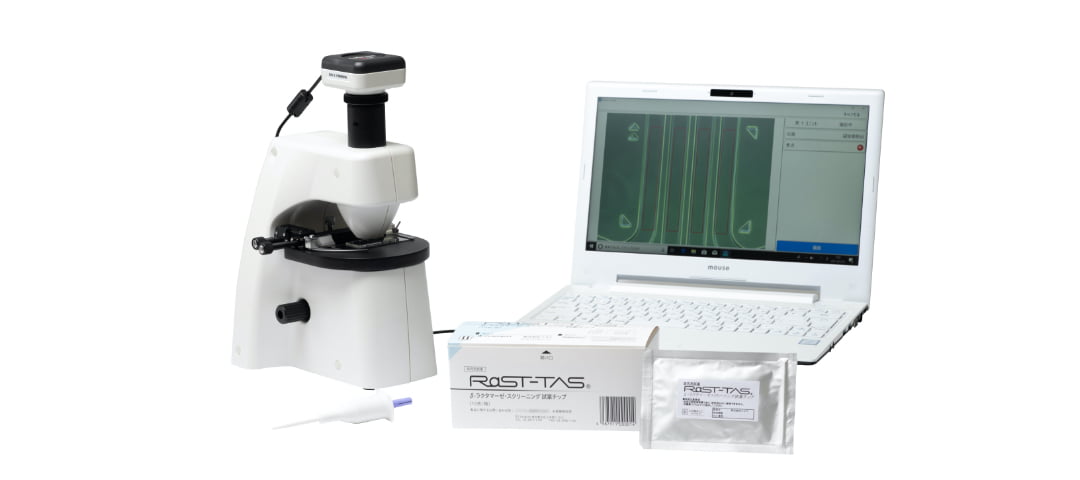 Conventional bacteria testing involves testing in large, expensive facilities or requires a certain level of skill necessary for operation. In contrast, RaST-TAS requires only a small microchannel chip, FP-01 (our original easy-to-use pipette), FS-01 (our original intuitive microscope), and FR-01 (our original analysis software to support decision-making), helping to save space, reduce costs, and simplify operations.
RaST-TAS
β-lactamase/screening reagent chips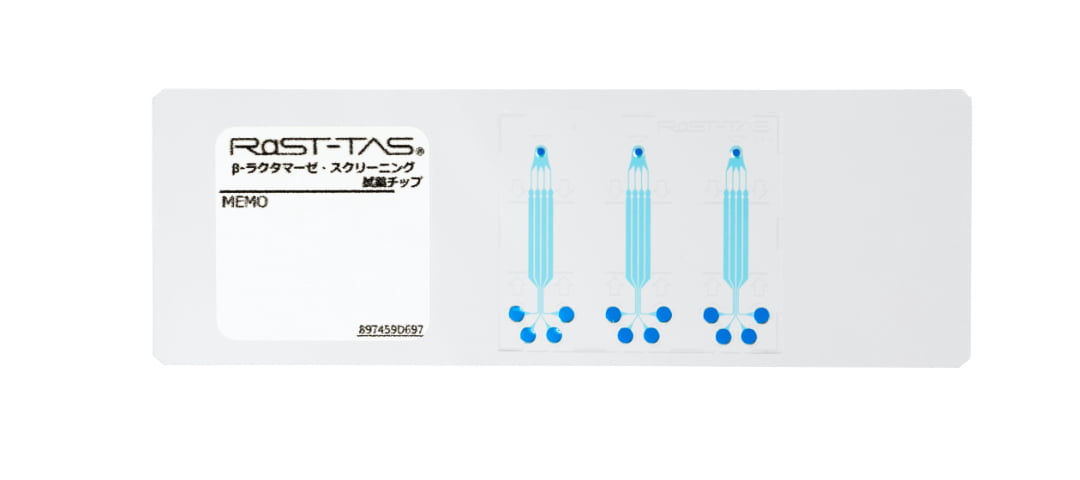 β-Lactamases hydrolyze and inactivate β-lactam antibiotics, making producers problematic drug-resistant bacteria in chemotherapy. These microfluidic chips can detect producibility of β-lactamases in various Enterobacteriaceae in less than three hours. The β-lactamases that can be detected are as follows.
Extended spectrum β-lactamases (ESBL)
Metallo-β-lactamases (MBL)
※This product is a reagent for research use and should not be used for purposes other than research.
Download RaST-TAS Series
β-lactamase/screening
reagent chip instruction manual
Click here to download materials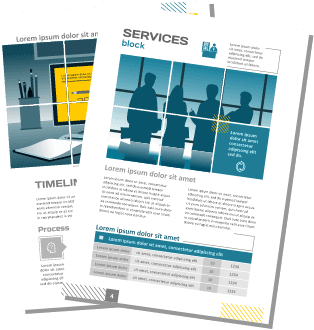 Find! FUKOKU in Industrial Machinery
We continue to develop technologies and products that help bring industrial machinery to the next level.