What FUKOKU Can Achieve
What has allowed FUKOKU to grow to a global scale is our willingness to think together with our customers about their needs and provide the products that will meet their needs.
The recent wave of digital transformation has brought with it new issues.
In order to adapt to a world of intense changes that can't be addressed with our expertise alone, we are introducing more technologies. At FUKOKU, we face even these new issues with a challenger's spirit, engaging in repeated discussions with our customers so that we can grow with society to create new products that will provide solutions.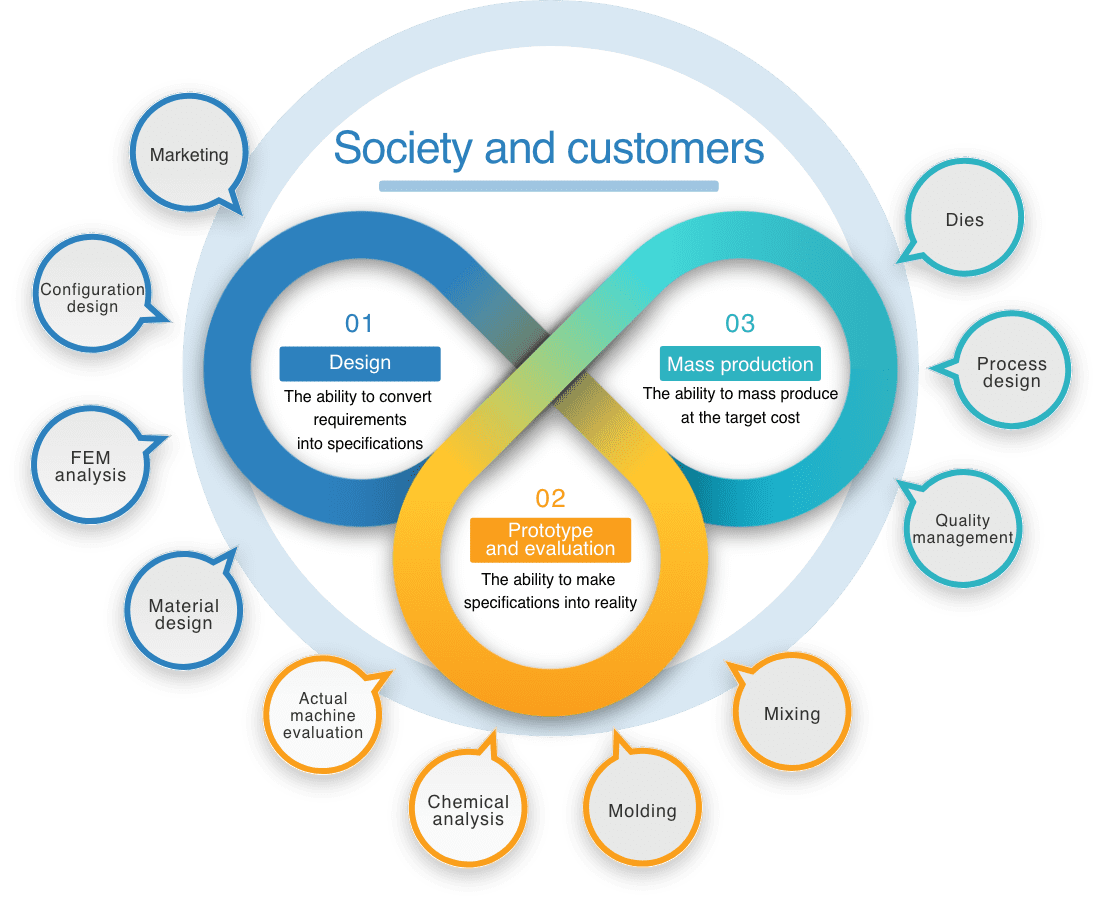 01
The ability to convert requirements into specifications
Sales and engineering work together to interview our customers. We design the things that our customers haven't even realized they wanted.
02
The ability to make specifications into reality
We use rubber compounding, surface treatment, mixing, molding, bonding, and many other methods to make what our customers want into reality. We also evaluate the prototype once it's complete.
03
The ability to mass produce at the target cost
We design the entire process and all dies and equipment. We achieve high-quality monozukuri (craftsmanship) using our experience in the automotive industry.
Element technologies
FUKOKU has built up many element technologies, especially in the field of rubber materials.
For example, take wiper blade rubbers, FUKOKU's representative product. At first glance, they may seem like nothing more than rubber, but in reality, they are the product of many of our element and composite technologies, including surface modification, coating, and cutting technologies.
We will continue to challenge ourselves toward new, high-dimensional issue-solving for our customers based on FUKOKU's many element technologies.
Learn more about element technologies
Case Studies: Examples of Introduction
Case 01: Wiper Blade Rubbers

Automobiles
No. 1 abrasion resistance quality worldwide
Double the performance of conventional coating technology
Here we introduce the products that embody FUKOKU's technical capabilities and spirit of challenging.